My former Ph.D.mentor and and dissertation chair at Arizona State, Dr. Bill Arnold, recently sent me this NBC News article, "Employees are tired, stressed and burned out. That's why I give mine 'wellness days" with the header, "Your Point". The article makes the point I promote that employers should treat employees as adults and give them freedom to use their days as desired. If employees are misusing the policy, attention should be directed toward a better culture. Work should be rewarding, as Dr. W. Edwards Deming often explained: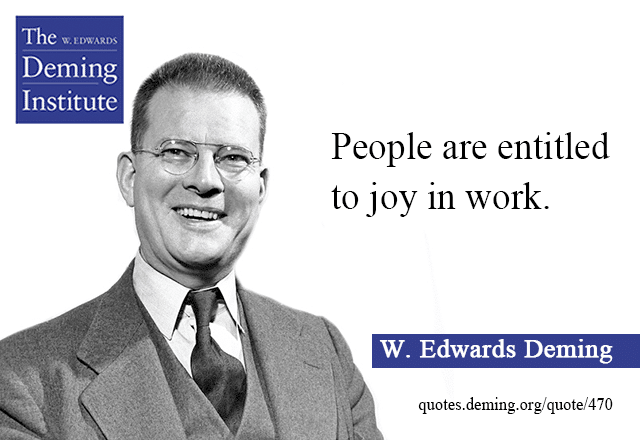 To enable people to have a better work experience, to enable joy, employees should be provided "general leave" days, rather than sick days, to use. If people are sick, then those general leave days are used for sickness and cannot be used for desired activities. This policy therefore rewards people who are healthy by giving them the opportunity to have days off with pay to use as desired. This type of "Wellness Day" Policy can generate more good, not just less bad or fewer sick days (see Beyond Order and Status Quo). This policy will also encourage people to strive for higher levels of health, which will also benefit productivity and research shows also results in less sick days, as a by-product.
In other words, give employees wellness days so they can use those days to fulfill their potential. After all:
Are we living in Orwellian's world? Why should we only paid for a day off if we are sick? Doesn't this policy reward sickness?
Of course providing for sick days is important, which a General Leave Policy also accomplishes, but more is needed. People need days outside of work for importantthings in life such as attending a child's performance, a child's graduation (personal experience), or going to see a fantastic exhibit. All these things are important to help the employees have a better life. Keeping employees from doing what they want will negatively impact their productivity and attitude about work. This policy also means when they will miss work, it won't be a surprise. With his policy employees will plan for the days missed which will also boost productivity when they miss without preparation. The policy highlighted in the article described their wellness days as:
The idea of Wellness Days is similar to the famed Google 20% time rule that encourages employees to spend 20% of their time on whatever they want. They trust the employees to do the right things and the payoff has been powerful (as noted in the linked article below).
The idea is pretty simple: It's that you, or a team, or a company–anyone, really–should divide your time working, so that at least 20 percent is spent exploring or working on projects that show no promise of paying immediate dividends but that might reveal big opportunities down the road.

"We encourage our employees, in addition to their regular projects, to spend 20 percent of their time working on what they think will most benefit Google," co-founders Larry Page and Sergey Brin wrote in 2004, before the company's IPO. "This empowers them to be more creative and innovative. Many of our significant advances have happened in this manner."
A Wellness Day policy that provides paid time off work for general leave, rather than sick days, is a way practice paneugenesis because it is likely to generate more good, not JUST less bad. Wellness Days are more likely to enable employees and their organizations to generate comprehensive improvements because they will now have the capacity to create net-positive, pervasive, reciprocal, selfish, selfless, synergistic interactions so everyone and everything benefits. Please share wellness days policies that work and also let us know how they have helped. Thank you.
BeWell'r,
Craig Becker
Be selfish, selfless, & synergistic so everyone and everything benefits!
#SelfishSelflessSynergy
Please share your thoughts and questions below.
Contact me: BeWellr@gmail.com