Hurricane "Ian" ravaged Florida and the east coast in September 2022. Some were fatally trapped because they stayed in their houses when the storm hit land. Although most would "trust" weather forecasts, they could not "verify" it would be that bad until it was too late. That is often the issue. Timing delays our ability to "verify".
"Trust but verify" became famous, according to Wikipedia, when Ronald Reagan used it during nuclear disarmament talks with the Soviet Union. Ironically, at least according to Wikipedia, it s a Russian Proverb. This saying has become relevant in my life, can be related to actions with hurricane Ian, and may benefit your life.
At least for me, it seems the universe can talk to me. This time it was about the Russian proverb, "Trust but verify". Of course, it became relevant because I also read Malcolm Gladwell's provocative 2019 book, "Talking to Strangers".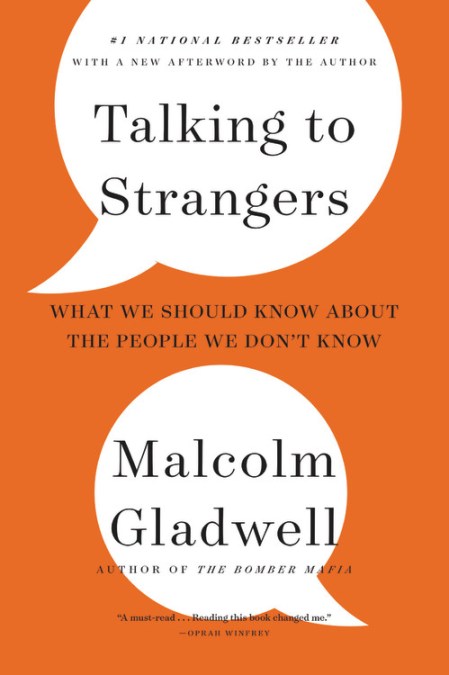 Transparency, Understanding
Gladwell's book was very enlightening (I recommend the book and summary). With research, "Talking to Strangers", in Gladwell's trademark neutral method, documents how we are good at understanding others when they act as expected, but bad at discerning the truth when they do not act as we think they should. He even suggests it could be because of the "Friends" effect. In the sitcom "Friends", the actor's emotions, expressions, and actions are all consistent and support what they will do.
In "Friends", if they are smiling, they are happy. If they are trying to cheat or trick someone, they act suspiciously. In real life, that is not always the case. Only sometimes are we transparent such that our actions match our intentions. Gladwell explains the "Friend's" effect to Jimmy Kimmel for about 2 minutes in the interview below. He also summarizes so much more. I strongly encourage you to listen to this 8-minute interview and read his book.
To demonstrate this conundrum, Gladwell documents other experiences in the book. One story discusses how Penn State's University President, Graham B. Spanier, was fired for endangering children when Jerry Sandusky was found guilty of child abuse. He contrasts this to parents who were in the room when Larry Nassar abused their kids, and yet they were not thought to be negligent. Life is ambiguous…
Default to Truth
Gladwell suggests and suspects this happens because people will automatically default to the truth, or believe what is best when people act as expected. In other words, we default to "Trust". It is hard not to, and it takes extreme risk and difficulty to go against the tide when others trust. The second part of the proverb, "Verify", is what we should do, but it is complicated by timing and effort.
This is a proverb because we want colleagues and supervisors to think the best of us, or to Trust us. Think how horrible it would be if people automatically assumed the worst in each situation. In other words, we should "Trust". If we didn't trust, Gladwell seems to justifiably suggest without implicit trust, the world would be a less desirable place for us all.
Verification takes extra effort, and those steps may also cause us to discover things we do not want to know. This happened during the pandemic when people stole funds, as highlighted in this NYTimes Daily Podcast, Why Was Pandemic Fraud So Easy?
During the pandemic, an enormous amount of money — about $5 trillion in total — was spent to help support the newly unemployed and to prop up the U.S. economy while it was forced into suspension. But the funds came with few strings and minimal oversight. The result: one of the largest frauds in American history, with billions of dollars stolen by thousands of people. Guest: David A. Fahrenthold, an investigative reporter for The New York Times, focused on nonprofits.

Summary of 9/27/2022 NYTimes Daily Podcast
It got Personal…
Recently, I did not adequately "Verify". The "Friends" effect impacted me. I didn't adequately verify people because I could not imagine why a group I was working with would not be telling the truth. Unfortunately, my "default to truth" and failure to adequately "verify" has slowed and damaged progress on plans I had to Practice Paneugenesis on a much bigger level.
Though this attempt to "Optimize the process" did not work, I am finding a better way to reach my idealized outcome so we can generate comprehensive improvements by being nudged to create pervasive, reciprocal, selfish, selfless, synergistic interactions so everyone and everything benefit.
We want to provide people with a GPS for life that will nudge them to efficiently use resources to lead a fulfilling, regenerative life that will also create regenerative communities. This BeWell'r Web will work like a forest's mycelium in the roots of plants and trees, enabling plants to be healthier through efficiently using the forest's resources.
This function of nature through the root network in a forest was dubbed to be the "Wood Wide Web" by "Nature"(August 1997). The "Wood Wide Web" is a communication network that shares information through its fungi with all in the forest about how to best use its resources so the forest can thrive. The video below shares the vision for our BeWell'r Web that will help create healthier people and thriving communities:
What do you think? Please share your thoughts.
BeWell'r,
Craig Becker
Be selfish, selfless, & synergistic so everyone and everything benefits!
#SelfishSelflessSynergy
Please share your thoughts and questions below.
Contact me: BeWellr@gmail.com